Our Location
Visit Canberra Community Law
Level 1, 21 Barry Drive
Turner ACT 2612 (Accessible entrance via the Environmental Defender's Office)
Postal Address: GPO Box 547 CANBERRA ACT 2601
Canberra Community Law Phone Number: (02) 6218 7900
Contact us through the National Relay Service
Give the Canberra Community Law number you want to call.
For more information visit: www.relayservice.gov.au
Alternatively call 133677 (Voice/TTY); 1300 555 727 (Speak and Listen) or 0423 677 767 (SMS Relay)
Facsimile: (02) 6247 2816
Email: info@canberracommunitylaw.org.au
Night Time Legal Advice Service email: NTLAS@canberracommunitylaw.org.au
Download our social script for "Visiting Canberra Community Law"
You can contact Street Law via the following:
Street Law's email: StreetLaw@canberracommunitylaw.org.au
Street Law Advice Line: 1800 787 529 or (02 6218 7900)
ABN: 70 806 964 913
ACN: 008 590 485
Parking & Accessibility
Paid parking is available on Watson Street, McKay Lane & McKay Gardens as well as across the road off Marcus Clarke St, other adjacent areas and the city centre. There are accessible parking spaces available on both McKay Lane & McKay Garden as indicated in the map below. The closest paid parking are indicated in the map below in the green and orange sections. There are limited 2 hour free parking spaces along Gould Street (about a 5 minute walk from Canberra Community Law).
Please note that for the parking marked 'W' there are no parking meters, and so you would need to pay for parking using the Wilson epark mobile app. You can download the epark app from the App Store or Google Play.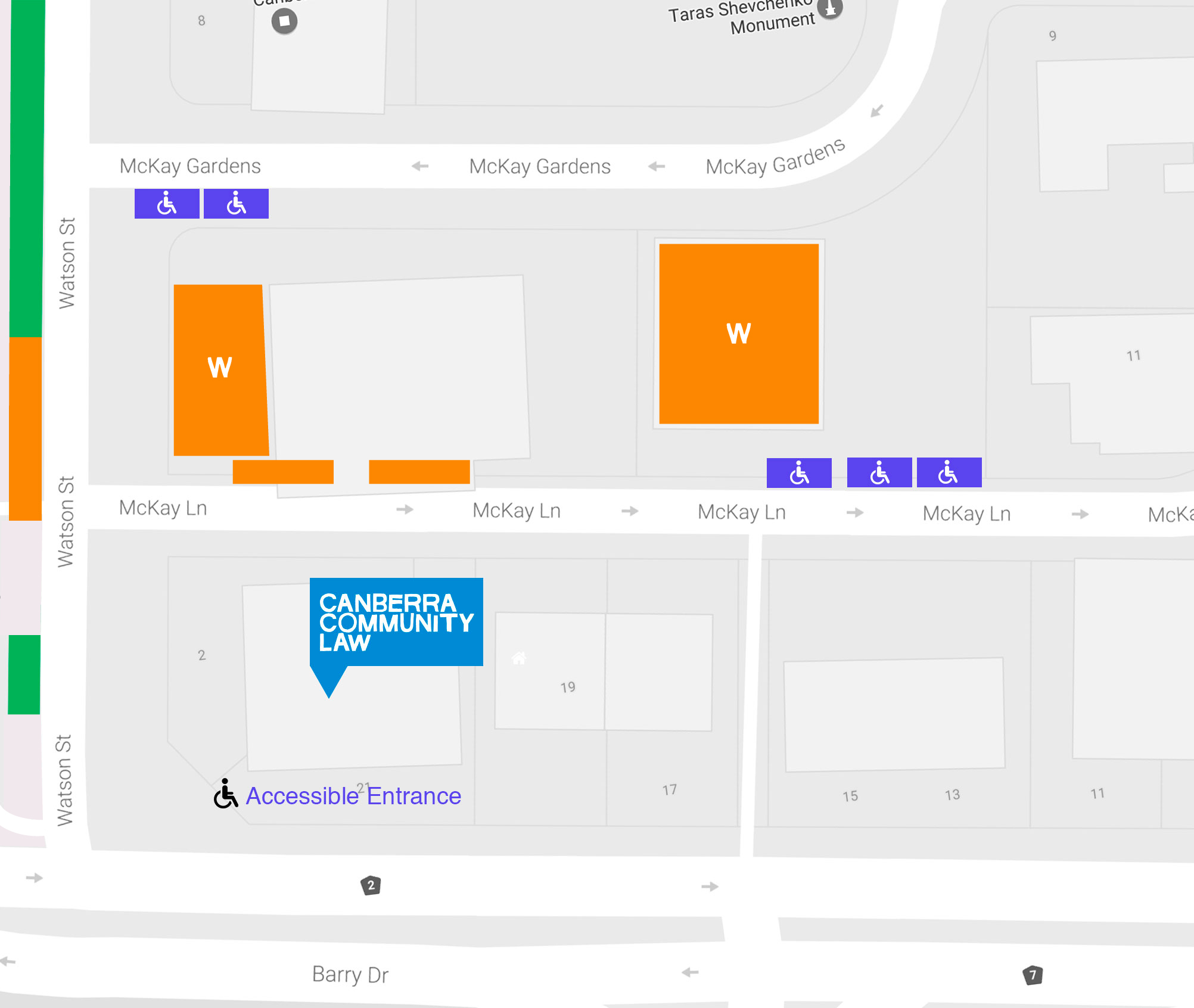 Accessible Entrance
The entrance to our Canberra Community Law is on the corner of Barry Drive & Watson Street. We are in the Templar House building. There is an accessible ramp and an intercom before the sliding glass door entrance (pictured below). Please press this and a member of our staff will assist you with gaining access to our building & organising one of our accessible meeting rooms.